PHU MY COMPLEX - N01T4
PHU MY COMPLEX GENERAL N01T4 UNION OF FOREIGN TRADE
Phu My Complex is one of the most invested projects and is located in one of the most livable areas in the West Ho Tay urban area and some surrounding areas recently. Some parks are an ideal destination for residents who wish to have a peaceful and happy life in the opposite direction of West Lake to bring fresh air to every household. Phu My Complex is also known as the N01-T4 area with the expensive location next to the Lac Hong Lotus building being sold to the market.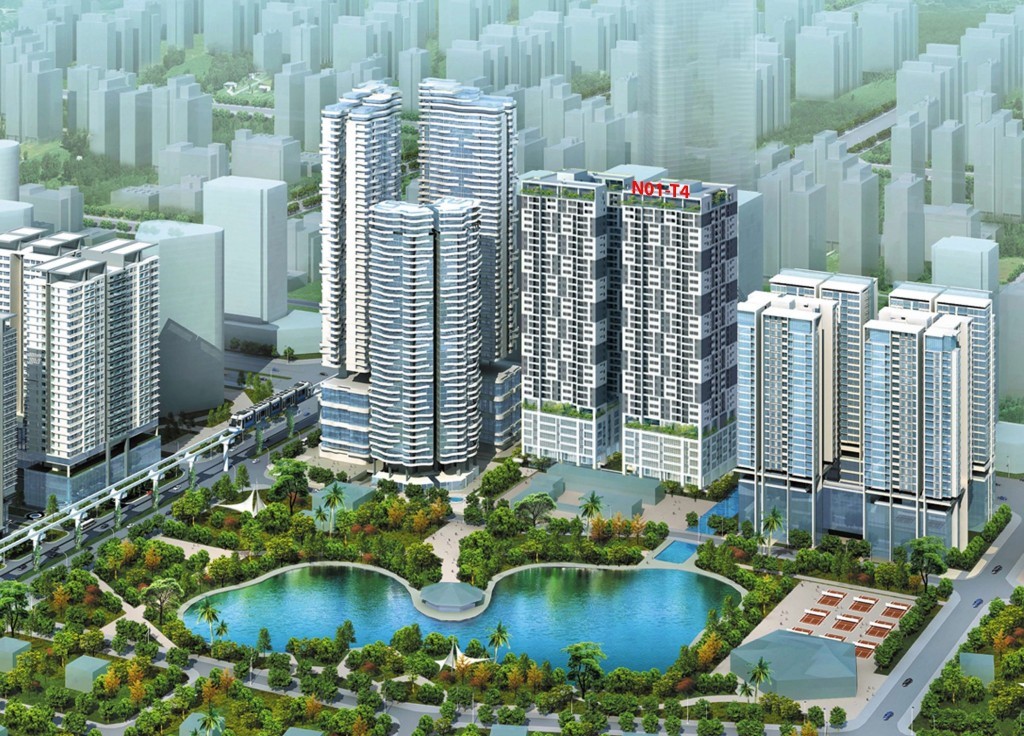 I. INFORMATION OF PHU MY COMPLEX PROJECT N01-T4, DIPLOMATIC CORPS
Project name: Apartment N01-T4 Phu My Complex
Commercial name: Phu My Complex luxury apartment
Developer of level 1: Hanoi Construction Corporation (Hancorp)
Developer of level 2: Phu My Real Estate Investment Joint Stock Company
Location: N01 Ngoai Giao Doan - Xuan Tao - Bac Tu Liem - Hanoi
Consultant: Cubic - Group8Asia (Switzerland)
Construction unit: Lac Hong Investment Joint Stock Company
HBS / M&E structure: CEBI (France)
Construction area: 1,828m2
Number of construction floors: 35 floors + 3 basements (not including technical floors and 1 roof floor)
Building the base block with the N01-T5 building
Total floor area: 50,925m2
Total area of ​​apartment floor: 30,195m2
Total number of apartments: 287 units
Apartment area: From 87m2 to 190m2, Penthouse apartment is 210m2.
II. PHU MY COMPLEX PROJECT LOCATION N01-T4, UNION OF FOREIGN TRADE
Project N01-T4 Phu My Complex Apartment belongs to N01 apartment complex of Diplomatic Corps urban area, invested by Hanoi Construction Corporation with the scale of 62.8 ha, located in Xuan Dinh Commune, District Tu Liem, Hanoi City.

Masterplan of Diplomatic Corps
Apartment N01-T4 Phu My Complex is located in a complex of urban areas with many green parks and lakes where it is known as a green city in the heart of Hanoi. With 25 minutes of modern and synchronous transport infrastructure system from the urban area to Noi Bai airport, it takes 15 minutes to reach the center of the capital via the major traffic routes: Nguyen Van Huyen and Vo Chi Cong, Pham Van Dong ... The whole N01-T4 Phu My apartment complex located on the big road of the project is very convenient for moving to the central areas of Hanoi capital and the surrounding areas.
Besides, the building also has a great advantage of using the facilities available in the project and surrounding areas such as international schools, Hoa Binh park, Huu Nghi park, and amusement parks. location and system of major universities ...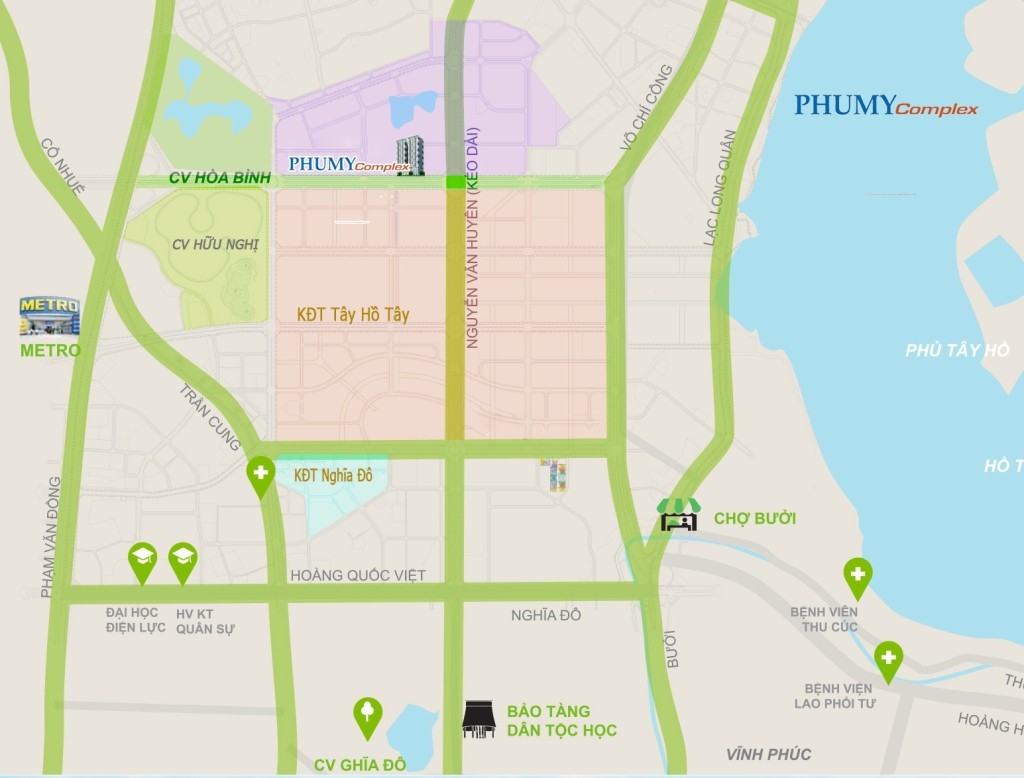 Location of Phu My Complex - N01T4 on map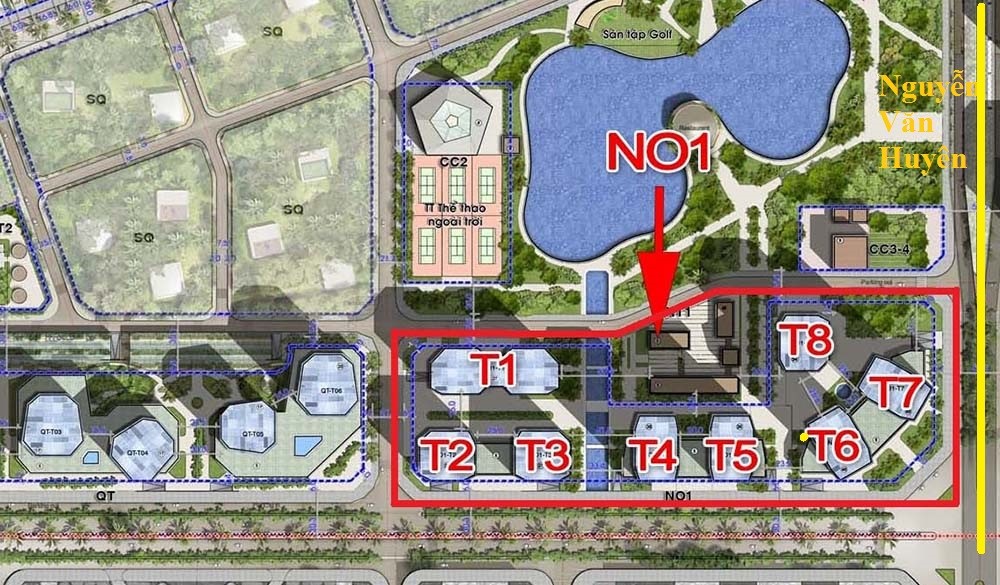 Location of Phu My Complex - N01T4 on Lot N01 of Diplomatic Corps Urban
III. PHU MY COMPLEX GENERAL DESIGN LANDSCAPE N01-T4, DIPLOMATIC CORPS
Phu My Complex project provides a superior and perfect living standard for customers, including hypermarkets, large and beautiful community rooms at the 1st floor. Especially Phu My Complex Project N01 -T4 Diplomatic Mission Delegates a whole floor with an area of 1633m2, a height of 7.2m to make a high-class service floor with perfect 5-star standards including: Gym, Yoga center, high-class restaurant, Outdoor garden cafe and especially a very wide 4-season pool area for adults and young children.
Outside Phu My Complex
Phu My apartment complex N01T4 is evaluated by architects as one of the best designed projects today with the design style of contemporary and classy architecture. The Phu My Complex apartments are designed with open space with large balconies, spacious passageways combined with natural light design for the lobby area, which is airy and close to nature.
For more information, please contact Hotline: 0973 340 819